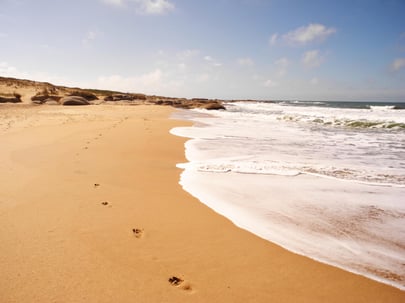 Capital Assured is developing a unique 5* Luxury Hotel Resort & Residences which includes a beach club and spa located 5 km from Punta del Este.
The site comprises of 85 m of beach front, 4.08 hectares, with a maximum depth of 472 m. Este, ocean front real estate on one of the few remaining sites close to the new marina and luxury resort development. 40,800 m² of prime urban beachfront located in an area of remarkable natural beauty on the Atlantic coast of the resort town of Punta del Este.
Part of a fast growing area: Punta del Este is a never ending showroom for foreign investors, with strong acquisition power and enthusiasm to place their capital in the second home real estate market.
Uruguay is considered one of the safest countries in the world: low levels of crime and corruption and among the freest political and working conditions on the continent.
An attractive beach destination: with high rental yield of up to 10% per annum.
Taxes are very low: with rental income and capital gains both at 12% (for foreign individuals and offshore companies) and Inheritance and gift taxes at 0%.Transaction costs are relatively low and wealth tax on real estate purchased by foreign companies is 1.5%.
Uruguay is a boutique country which has earned its right to be called the Netherlands of Latin America. With an uber-liberal government, progressive social laws and a stable economy, it has become a bastion of pragmatic economic policies that favour business and foreign investment. With a population of under 3.4 million, it is ranked 9th out of 32 countries in the region for ease of doing business, which is far above neighboring Brazil and Argentina, stated recently by the World Bank.
Even as foreign direct investment slumped by 23% in Latin America and the Caribbean in the first half of 2014 it soared by 9% in Uruguay, according to the United Nations.
2104 saw the biggest single private investment in Uruguay's history. The mill at Punta Pereira, built together with a small port for fast exports to Asia, Europe, and North America, will turn Uruguay's plantations of eucalyptus trees into 1.3 billion tons of pulp a year, making it one of the world's biggest operations with an expected increase in GDP of 2%. Half of the $2.5 billion investment in the mill came from Chile, the other half from Finland.
Uruguay's beef production industry, by electronically tracking cattle, has helped it access demanding foreign markets. Its successful beef exports amounted to 1.46 billion in 2014 - 35 percent of total exports and 6 percent of the country's GDP.